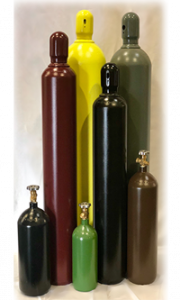 KAPLAN INDUSTRIAL CYLINDERS
Modern Chrome-moly Alloy 4130 has enhanced the toughness of cylinder products today. Unlike past when material was only stressed relieved, today modern quench and tempering provides key benefits in 3AA cylinders.
Non-Shat
Lighter weight
Enhanced toughness
Improved flaw and fracture performance
From the smallest lecture bottles to the largest storage vessels, from 240 PSI to 6000 PSI working pressure, Kaplan Industries has the cylinder you need to help provide the flexibility required for you and you customer. All our products meet the strictest quality control standards and comply with DOT, TC, CGA, and Military specifications.