High Purity Hydrocarbons (Butane)
With the legalization of Cannabis growing dramatically in the United States and worldwide, more and more states are realizing the importance of this product in many consumer and medical industry applications. Kaplan Industries saw an opportunity to utilize its 60+ years of expertise in cylinders to begin packaging high purity Hydrocarbons for use in the extraction process to remove the "Oil" from the Cannabis plant.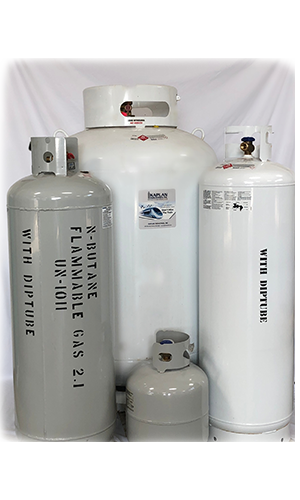 Kaplan offers a wide selection of Hydrocarbon (Butane) in pre-packaged or made-to-order cylinders for easy turn-around and profit maximization. These cylinders are similar to what we know as 20#, 100#, and ½-ton propane cylinders but are cleaned and prepared specifically for the 99.5%+ purity Hydrocarbons to assure our customers the best results.
At Kaplan Industries, we understand the importance of "Clean" material to achieve the best extraction results. All our Hydrocarbons are Certified 99.5% + Instrument Purity and only packaged in DOT-approved cylinders. Prior to every fill, each cylinder -- new or recycled -- undergoes our proprietary "Kaplan Wash" to assure the highest level of cleanliness. Why settle for less?